Bo, the Veteran
Bo, the Veteran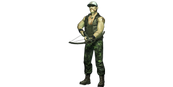 Veteran of multiple wars.

Bo, the Veteran is a character in Trapped Dead.
Bo fought in many wars at several fronts. That's why he can handle almost every weapon and has a will of iron. He owns the city's weapon shop and a shooting range. Bo is not the talkative type and avoids no battle.